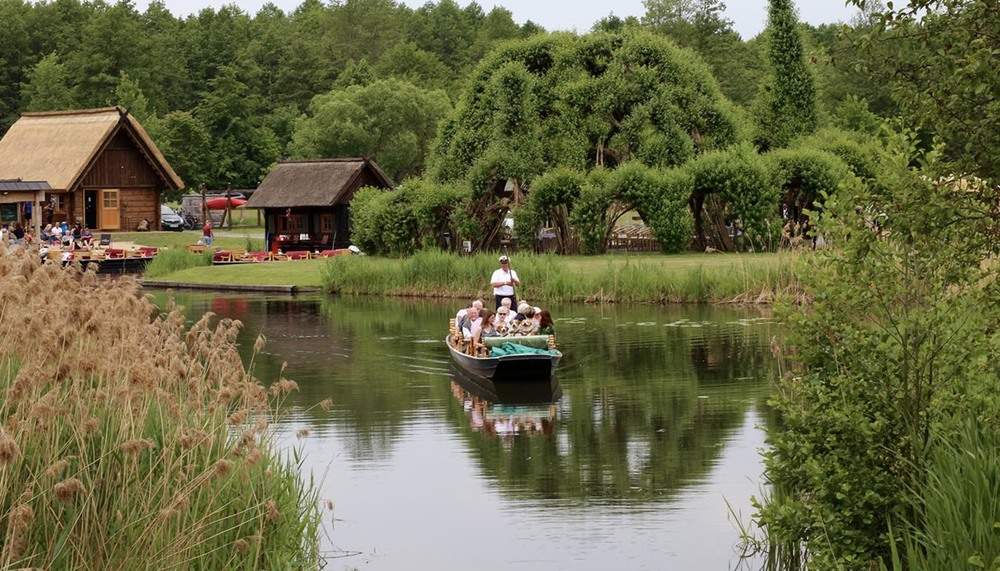 SPREEWALDRESORT Seinerzeit
activities & incentives
SPREEWALDRESORT Seinerzeit
Reward yourself & others
Being active or looking for relaxation - alone or with friends and colleagues - at the SPREEWALDRESORT Seinerzeit you will find what you are looking for. Promised!
boat ride through the Unterspreewald
The small port is right next to our house and our willow dome. The boat ride takes about 2 hours and can be reserved in advance. We are happy to serve you coffee and cake, lard bread and cucumber from the Spreewald, as well as our beers and spirits.
Explore the Spreewald on your own, you can hardly get lost. Discover enchanted and almost forgotten places, listen to the crickets chirping and enjoy a short rest in the shade of old trees. We are happy to provide meals as packed lunch.
Our guide will be happy to bring you closer to this special experience of maneuvering a filigree arrow through the powerful arch into its target. A special highlight is a tournament in the evening - when the atmosphere is accompanied by open fires.
SATAMA SAUNA RESORT & SPA am Scharmützelsee
Our "sister resort" at lake Scharmützelsee is only 30 minutes away by car. Experience top-class wellness: various saunas, steam baths, a restaurant and cozy islands of relaxation can be found on more than 7,000 square meters. The SATAMA SPA has a wide range of wellness treatments for you.
Bed & Bike and bike rental
Our SPREEWALDRESORT Seinerzeit is one of many bed & bike stations in Brandenburg. Of course we have a storage space for your bike. There is a bike rental on site. The Spreewald is a popular destination for bike hikers and accordingly well equipped with bike paths and very well signposted.
It doesn't always have to be a boat ride. A charabanc ride "Kremserfahrt" is also a very sociable, sometimes cheerful undertaking. Did you know that the term "Kremser" was coined by Mr. Simon Kremser from Berlin? In 1825 he introduced the horse-drawn omnibus, a covered wagon with longitudinal benches.
Experience the peace and sleepiness at night while walking through one of the oldest villages in the Spreewald! Find out from the more than 1000-year history what the Schlepziger Baroque is all about or why the small train station of the village is so far away. Hear stories, cheeky, funny, but sometimes frivolous, but above all full of word acrobatics!
It's hard to believe, but there are actually three different museums in the small town of Schlepzig. The Agricultural History Museum, the smallest fire brigade museum in Brandenburg and the mill museum with the sale of their own muesli, bread, linseed oil, etc. Further more you can get a scientific impression by visiting the neighboring Schlepzig biosphere.
The largest tropical leisure paradise, the Tropical Island is only a few minutes away by car.